Amami Oshima Island is a popular tourist destination.
It would be useful to know if there are any convenience stores so that you can find what you need when you need it.
Amami Oshima has both convenience stores that can be found all over Japan and local convenience stores that can only be found on Amami Oshima.
This article will introduce Amami Oshima's convenience stores by region.
Closest to the airport! "Shimanchu Mart Kasari Store" has a great selection of goods.
1240-4, Yoyasu, Kasari-cho, Amami-shi, Kagoshima ※Click to open Google Map
Nearby spot: Amami Airport, Amami Park
Shimanchu Mart Kasari is a convenience store with a terrace overlooking the sea, located about 15 minutes by car from Amami Airport.It is said that locals often shop there, but it also has a variety of products that tourists would be glad to have.It has everything you need for swimming, shampoo and conditioner, contact lenses, etc.
It will help you if you forget something on your trip.
In addition, there is an excellent selection of delicious foods such as Amami-style lunch boxes and breads made in a special kitchen, gelato made in a local facility, and island specialties. There are also toilets and a coin-operated laundry.
Shimanchu Mart is a chain of stores located only on Amami Oshima Island. Click here for all stores except the Kasari store.All stores sell food, sundries, magazines, etc., and also have restrooms, rest areas, coin-operated laundries, and dry cleaning facilities.
Familiar chain store, "FamilyMart Ryugo Store"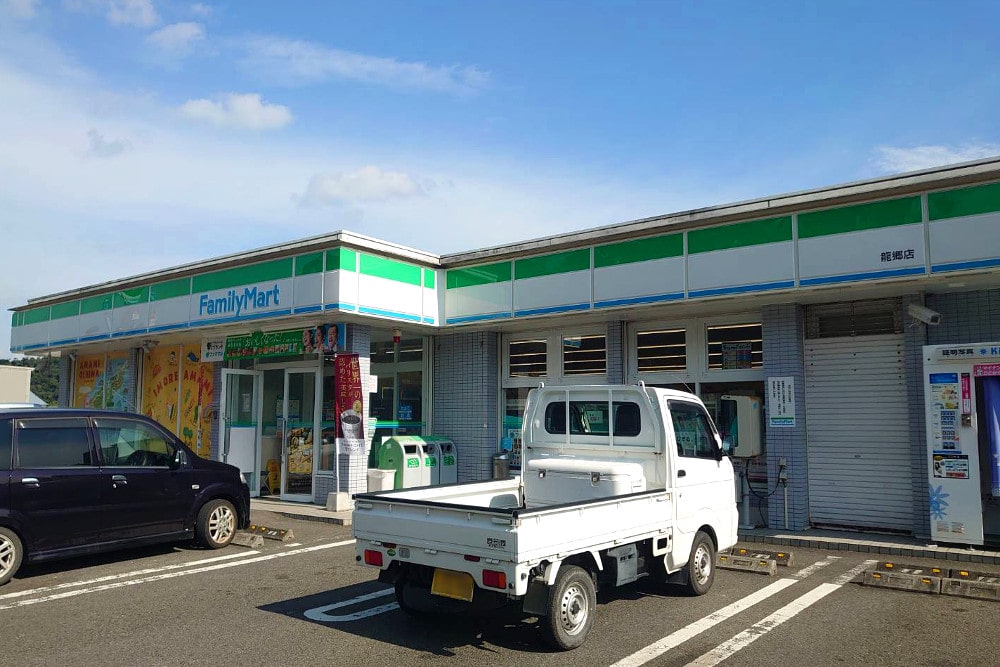 1098-1, Ura, Ryugo-cho, Oshima-gun, Kagoshima, Japan ※Click to open Google Map
Nearby Spot: Heart Rock
Among the major convenience store chains that operate nationwide, FamilyMart is the only one that is also located in Amami Oshima. The basic concept of FamilyMart is the same as in other areas, but there are some unique features such as the sale of Amami Oshima sweets and Spam. E-net and Japan Post Bank ATMs are also available.
All except the Ryugo store are here. FamilyMart stores are concentrated in Naze, in the central part of Amami Oshima.
Unique Product Lineup "i-Shop Naze Central Store"
2-1 Naze Saiwai-cho, Amami City ※Click to open Google Map
Nearby spot: Amami Museum
i-Shop Naze is a convenience store that operates in Kyushu, Okinawa and other areas. The Naze Central Store has a large selection of craft beer, freshly baked bread, and cup noodles like regular convenience stores. It also carries Nesari Chocolate, which is made without additives by a bean-to-bar chocolate maker using sugar cane from Amami.
All except the Naze Central store are here.
"123 Mart", open 24 hours a day.
10-8 Irifune-cho, Naze, Amami-shi, Kagoshima ※Click to open Google Map
Nearby spot: Yani River Street
123 Mart is a 24-hour convenience store located just off Yanigawa Street, where many restaurants are located. At the entrance of the store, there is a large souvenir corner with sweets and local products of the island. There is also a family restaurant called "Joyfull" on the second floor.
おすすめ宿:海を一望できる極上空間で、奄美大島の魅力に包まれるリラックス宿「奄美星宿」
2021年11月にオープンしたばかりの1棟貸しの奄美大島を堪能するにピッタリのデザイナーズ別荘。
徒歩30秒の奄美ブルーの海と夜景には満天の星に言葉では表せれない感動を体験を与えてくれます。1棟貸しだからできる贅沢なプライベート空間で奄美の美しさをで心ゆくまで感じてみてはいかがでしょうか?