When you go on a trip, one of the most fun things to do is to worry about what to buy as a souvenir. Amami Oshima Island in Kagoshima Prefecture is a popular tourist destination, and there are many things to take home as souvenirs, such as cute sweets with tropical elements and sets of traditional dishes that can be enjoyed at home. In this article, we will introduce 10 of the most popular and recommended souvenirs for different occasions, such as handing out at work or to friends.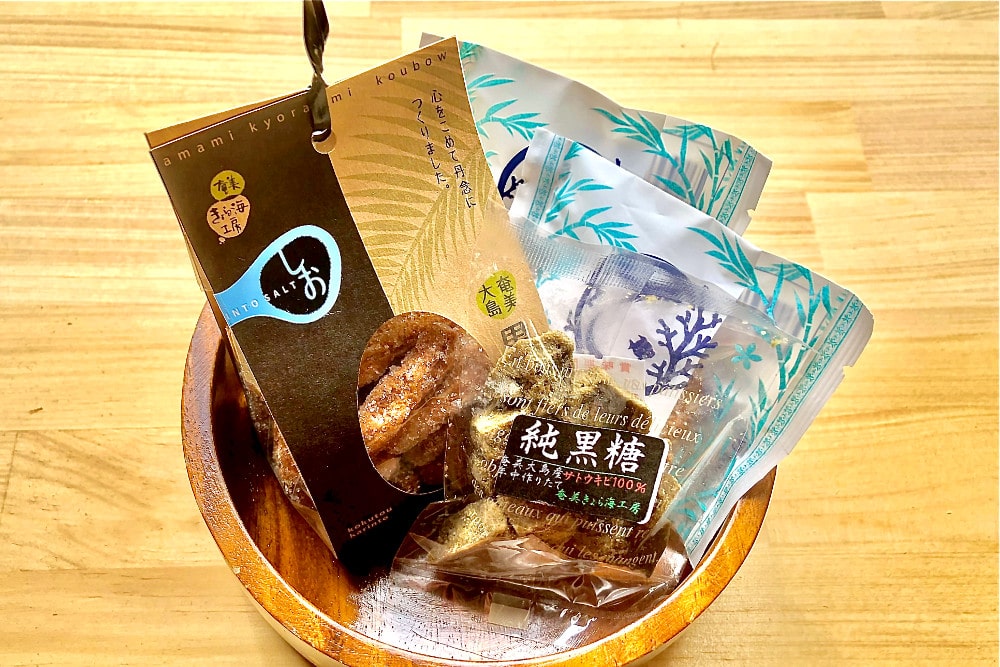 Sweets available only in Amami Oshima
"Amami no Kuro Usagi"
The "Amami no Kuro Usagi" cookies made by the long-established confectionery store, which has been in business for over 50 years are cute cookies that are a standard souvenir of Amami Oshima Island. A single box contains two kinds: Amami brown sugar flavor and aosa flavor.Aosa-flavored sable cookies are very rare, they go well with sable cookies. 20-sheet package (1,250 yen including tax) and 10-sheet package (750 yen including tax) are available.
*Aosa: A type of edible green seaweed.
"Amami Oshima Sata Andagi"
"Amami Oshima Sata Andagi" is crunchy on the outside and chewy on the inside, and is very popular among people of all ages. There are five flavors: brown sugar, kinako, cocoa, yomogi, and plain. The small box contains six pieces (540 yen including tax), and the large box contains three small boxes, for a total of 18 pieces (1,570 yen including tax). The package is modern and cute, created by the Amami Oshima design group "Shall we Design". The package also includes a card with photos of Amami Oshima's beautiful scenery.
Website: Gaju Marine (gajumarine.com)
"Amami no Hoshi"
"Amami no Hoshi (Star of Amami)" is a standard item at souvenir stores in Amami Oshima. These crunchy treats are dipped in a generous amount of chocolate, and are available in packs of 9 (650 yen including tax) and 15 (950 yen including tax), making them the perfect little souvenir.
Travel Memories at Home
Keihan(Amami's famous chicken rice dish)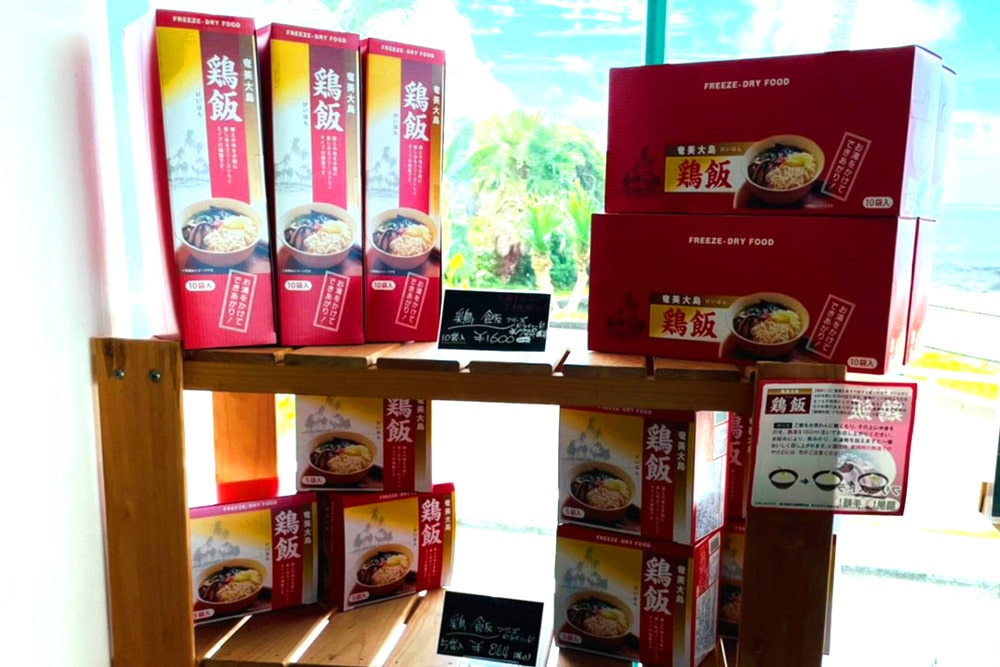 Keihan is chicken rice, a local dish of Amami Oshima Island that has long been popular for about 400 years. The rice is topped with chicken, dried shiitake mushrooms, broiled egg, papaya pickled in miso, tangerine peel, etc., and chicken broth is poured over the top. In Amami Oshima Island, it is still often eaten at home and at school, and there are many specialty restaurants. Yamaa's Chicken Rice Set is a product that allows you to enjoy the taste of Amami Oshima even after you return home. Freeze-dried chicken rice can be easily prepared at home. 367 yen (tax included) for one serving.
Website: https://www.yamaa.jp/products/detail/165
Kuro Usagi no Komoriuta
"Kuro Usagi no Komoriuta" is a brown sugar-flavored bun with a rich brown sugar flavor and a moist texture. The price is 929 yen (tax included) for a pack of eight.
Amami Kokuto Castella
Amami Kokuto Castella is a rich sponge cake made of 100% pure brown sugar. The sponge cake is made of Amami tangerine and island honey and has two different tastes. It is the perfect accompaniment to coffee or tea. The price is 1,642 yen (tax included) for 6 pieces, 3 pieces each of island honey flavor and Amami tangerine flavor.
Website: https://kyora-umi.com/?pid=73892942
For best friends and family.
Amami brown sugar shochu
Amami Brown Sugar Shochu is made from sugar cane and is a rare liquor that is only permitted to be produced on five islands in the Amami archipelago. A variety of flavors can be enjoyed depending on the type of koji added in the production process, the distillation method, and the alcohol content. If you are worried about bringing home a large bottle, or if you want to try different brands, we recommend a set of five brands in miniature bottles. This set contains five different brands (Hamachidori, Sango, Satono-akebono, Hikanzakura, and Yachiyo) in 100 ml bottles for 1,436 yen (tax included). The price is 1,436 yen (tax included). Please note that the contents of the bottle may change depending on the season.
Website: http://yacchaba.jp/products/detail.php?product_id=46
Nessari Chocolate
"Nesari" is a word from Amami Oshima Island meaning "snack/breakfast". Nesari chocolate is a bean-to-bar chocolate made from Amami sugarcane and other seasonal ingredients of the southern island, and is made without additives. The package, featuring motifs of Oshima silk and Amami's flora and fauna, is well designed and makes a perfect souvenir. The price is from 972 yen per piece.
Website: https://shop.nesarichocolate.jp/
confiture
Confiture can be enjoyed in a variety of ways, such as on bread or in tea. The confiture made from Amami Oshima's specialties such as passion fruit, mango, and guava looks lovely and offers a luxurious taste that is a little different from the jam you usually buy. Prices vary depending on the type of fruit, but range from 302 yen to 626 yen (tax included) for 50g, and 734 yen to 1,458 yen (tax included) for 120g.
Webiste: https://kyora-umi.com/?mode=grp&gid=897001
Amami Kokuto Chocolate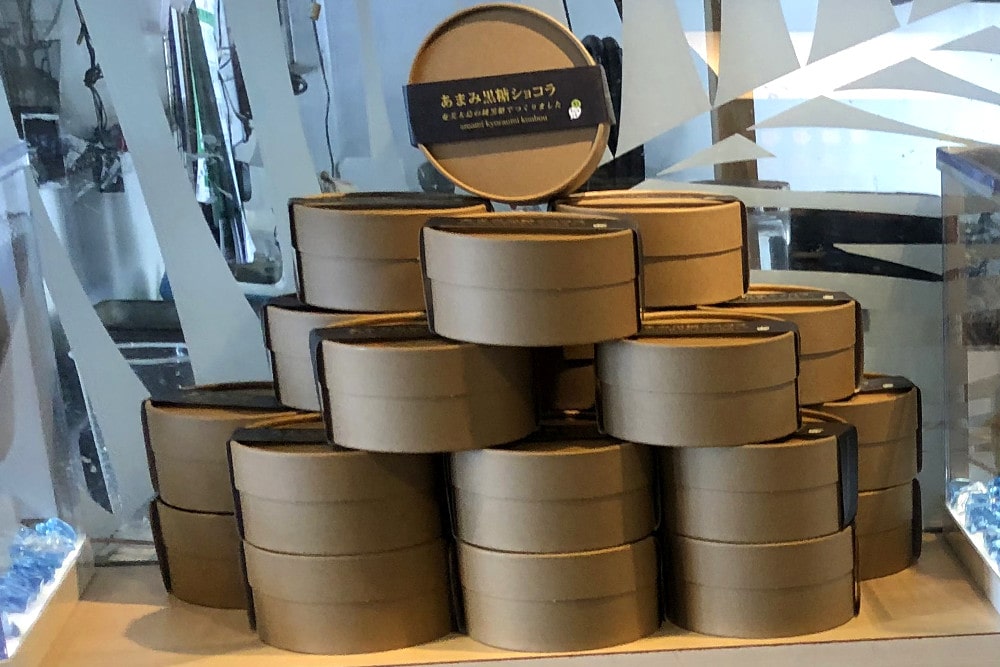 "Amami Kokuto Chocolate" is a confectionery made of 100% Amami Oshima sugar cane brown sugar wrapped in bitter chocolate and coated with cocoa powder. The two textures of mellow chocolate and crunchy pure brown sugar can be enjoyed at once, and its elegant sweetness is recommended for adults. It has won several awards in the past, and was once selected as the first in-flight product on a Japan Air Commuter flight. The packaging is also stylish and is sure to please. The price is 1080 yen (tax included) for a pack of 12.