Amami Airport, the gateway to Amami Oshima Island, was reopened in July 2018. Let's check the facilities and equipment of Amami Airport in detail. We'll give you the latest tidbits, like the Wi-Fi situation you're wondering about and whether there's an airport lounge!
Facilities and Wi-Fi conditions in the Amami Airport Terminal Building
The first floor of Amami Airport is the arrival lobby and check-in counter, and the second floor is the departure lobby. The public free Wi-Fi service is available inside the building, which can be used for 15 minutes up to 4 times a day, so it is actually free for 60 minutes. Also, both the 1st and 2nd floors are equipped with charging spots for your convenience! Other facilities are as follows.
souvenir shop
There are a total of six souvenir shops on the first and second floors. All shops are open from 8:00 to 19:00, so don't worry if you forget to buy something during your trip.
restaurant
The national chain family restaurant "Joyful Jr Amami Airport Branch" and "Curry Stand ASJ" are located on the 2nd floor. If you want to kill time, you can use Joyful. However, the independently operated "Joyful Free Wi-Fi" cannot be used at the Amami Airport branch and the public free Wi-Fi at the airport is also difficult to reach. It will be difficult to work using the free Wi-Fi.
Joyful Jr Amami Airport Shop
Opening hours: 8:00 - 19:00 (last order by 18:00)
massage
Massage on the first floor is available from 4,000 yen for 30 minutes of momi-ho-roku. You can also choose from foot pressure points and oil massages to help you heal from your travels.
Rooftop observation deck
The 3rd floor is connected to the rooftop and you can go out to the observation deck. You can see the runway and the ocean, and if it's clear, you can see Kikai Island in the distance!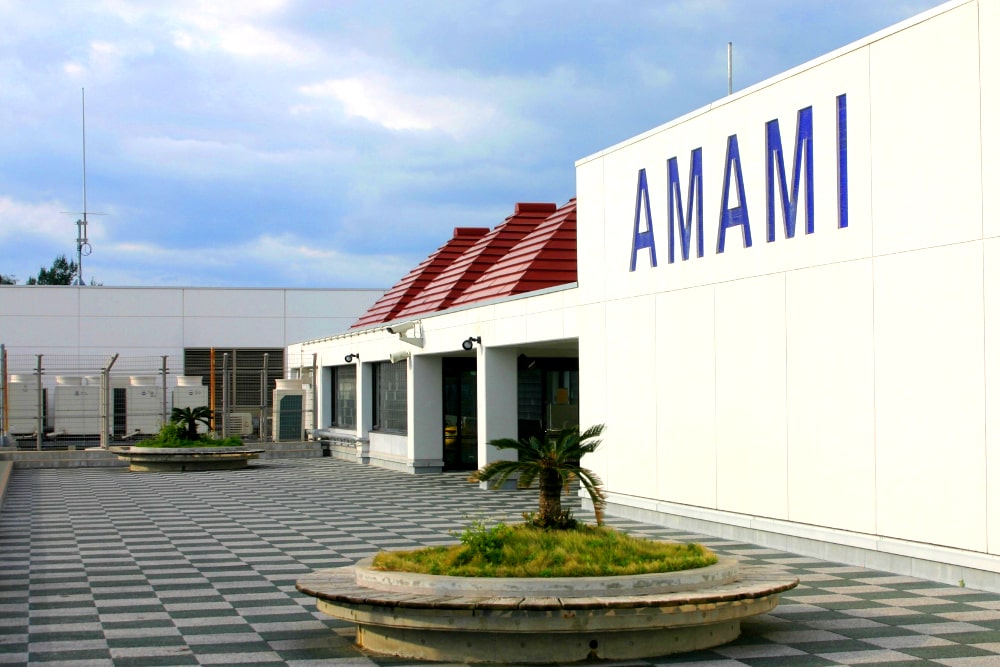 おすすめ宿:海を一望できる極上空間で、奄美大島の魅力に包まれるリラックス宿「奄美星宿」
2021年11月にオープンしたばかりの1棟貸しの奄美大島を堪能するにピッタリのデザイナーズ別荘。
徒歩30秒の奄美ブルーの海と夜景には満天の星に言葉では表せれない感動を体験を与えてくれます。1棟貸しだからできる贅沢なプライベート空間で奄美の美しさをで心ゆくまで感じてみてはいかがでしょうか?
Is there an airport lounge at Amami Airport?
There is no "airport lounge" operated by each airline or credit card company at Amami Airport. Instead, paid waiting rooms are available. The paid waiting room at Amami Airport is like a conference room and there are no drinks or Wi-Fi, but you can spend a relaxing time there.
Paid Waiting Room at Amami Airport
Hours of use: 8:00 - 19:00
Usage fee: 2,000 yen / 1 hour
Reservation phone number: 0997-63-2251
You can use it without reservation if there is a vacancy.
After arriving at Amami Airport, gather information at the Information Center! Is there an ATM?
When you exit the arrival lobby of Amami Airport, stop by the "General Information Center" immediately on your left. It is convenient to get the timetable of bus routes and pamphlets of hotels and restaurants. Also, if you are traveling mainly on the "Shimabus" bus route, or if you are heading to Koniya, the "unlimited ride ticket" is cheaper. It is recommended to buy it in advance at the airport information desk. It is not sold in the bus.
Fare for unlimited ride ticket on Shima Bus
1 day ticket/Adult: 2,100 yen
2 day ticket/Adult: 3,150 yen
3 day ticket/Adult: 4,200 yen
*Children pay half the adult fare. (Rounded to the nearest yen) *You can ride the Shimabus as many times as you like during the period.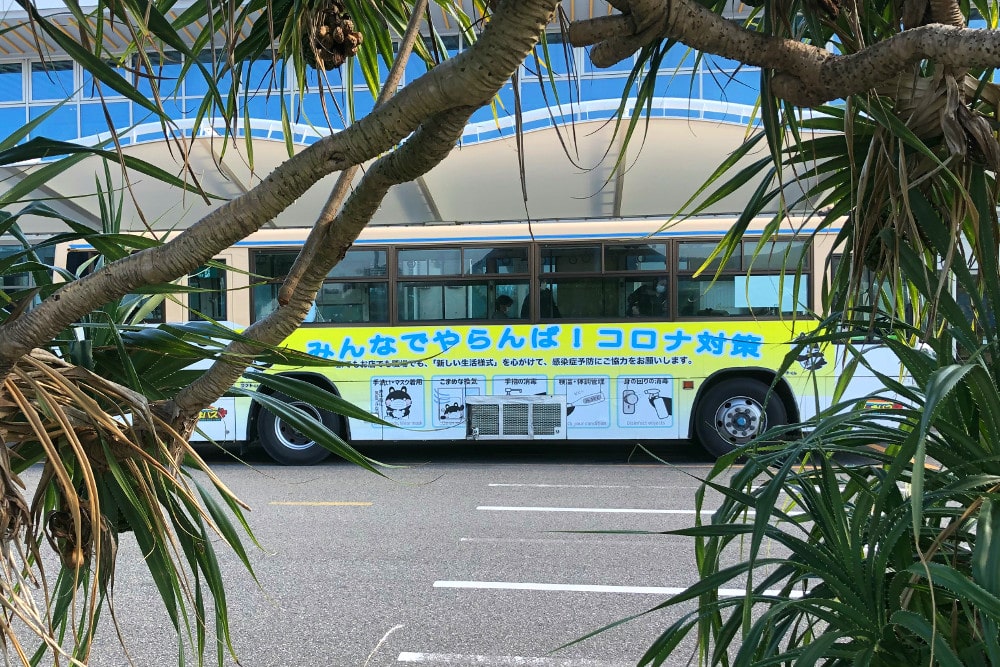 How about ATM in Amami Airport?
There is only the ATM of "Kagoshima Bank" near the check-in lobby on the 1st floor. There is no post office, so please be careful. By the way, if you want to send your carry-on baggage by Yu-pack, the general information desk handles it.
How to get to other places from Amami Airport!
Transportation from Amami Airport is by bus, taxi or rental car. By the way, there is no train service in Amami Oshima. The number of buses and their destinations are limited, so if you want to go around, renting a car is recommended!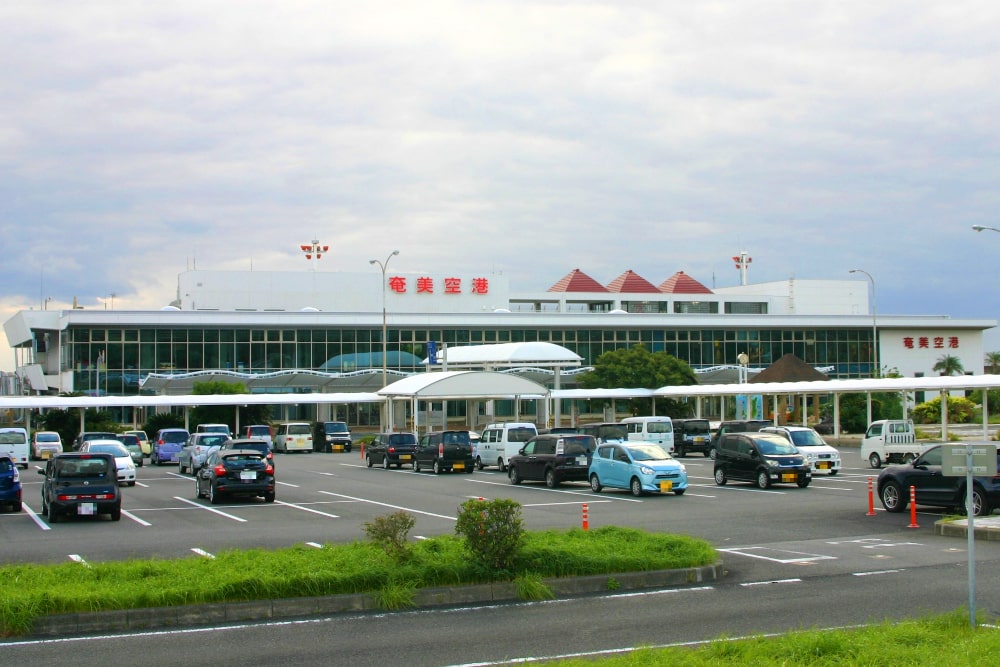 Route Bus "Shimabus
There are direct buses to the Amami Oshima urban area "Nase" and "Koniya". Even if the bus is bound for Koniya, it will always stop at Nase before heading there. It costs 1,100 yen from the airport to Nase (about 50 minutes) and 1,400 yen from Nase to Koniya (about 95 minutes). If you want to go to Koniya by bus from the airport, buy an unlimited ride ticket at the General Information Center.
taxi
If you are not confident in driving a car, or if you have limited time and want to visit sightseeing spots efficiently, it is a good idea to arrange a sightseeing taxi. It is convenient to have a drink without hesitation.
Guideline for arranging a sightseeing taxi
Time required: 3 to 4 hours for the half-day model course
Price guide: Small size (capacity: 4 persons) 13,800 yen and up
rent-a-car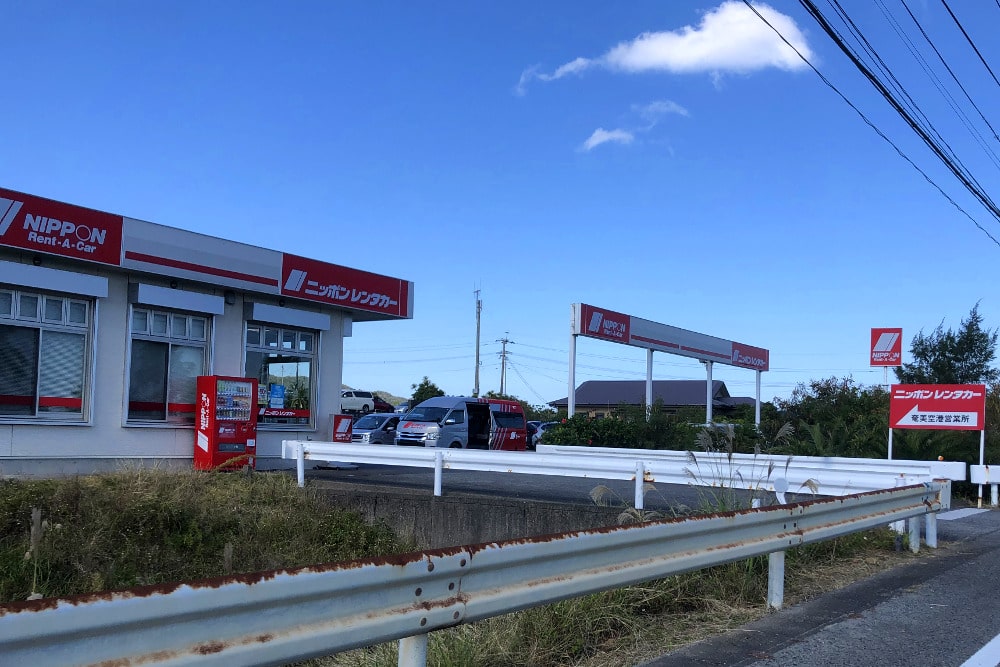 There are more than 10 car rental companies within walking distance of the airport. Even if you accidentally forget to make a reservation, you can do so on the day of your visit. However, there are only a few rental car companies that allow you to rent a car without leaving the airport, so be sure to check in advance.
Contact information for Amami Airport and each airline
Amami Airport Terminal Building General Information
You can check for lost and found items in the terminal building. For lost items and business information at restaurants and shops, you need to contact each shop directly.
Phone number: 0997-63-2295
Airlines flying to Amami Airport
Contact the airline you are flying with for information on the day's flight, your ticket, and any items you may have left on the plane.
Japan Airlines / Japan Air Commuter / Ryukyu Air Commuter / J-Air
peach aviation
スカイマーク
summary
Amami Airport is a compact and convenient place to get everything you need. It is not the type of airport where you can enjoy staying for a long time, but you can kill time before departure! Please check it out in advance and make use of it for your travel information.
おすすめ宿:海を一望できる極上空間で、奄美大島の魅力に包まれるリラックス宿「奄美星宿」
2021年11月にオープンしたばかりの1棟貸しの奄美大島を堪能するにピッタリのデザイナーズ別荘。
徒歩30秒の奄美ブルーの海と夜景には満天の星に言葉では表せれない感動を体験を与えてくれます。1棟貸しだからできる贅沢なプライベート空間で奄美の美しさをで心ゆくまで感じてみてはいかがでしょうか?