Amami Oshima Island is full of nature and has many power spots where you can receive strength. Whether you wish for a boost in your spirits or simply want to admire the beautiful scenery, there is something for everyone to enjoy. Let's experience something out of the ordinary on Amami Oshima Island and forget the fatigue of daily life!
Heart Rock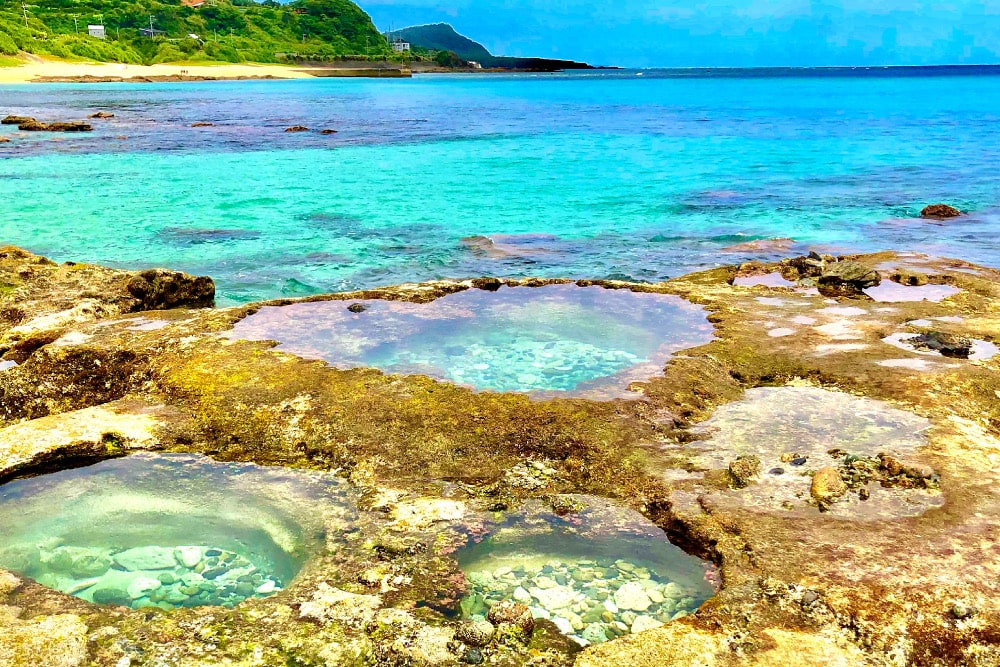 Heart Rock" is a representative power spot on Amami Oshima Island and is visited by many tourists. It is especially popular among women and couples. The heart-shaped rock is surrounded by clear blue water, radiating a mysterious beauty, and is known as an Instagram-worthy spot due to its beauty. Another attraction is the rarity of the rock, which appears only at low tide. Those who are lucky enough to see them are said to be blessed with romantic fulfillment and good luck. There is also a rumor that if you take a picture of the heart rock and use it as the standby screen of your smartphone, your luck in love will increase.
The best time to visit Heart Rock is at low tide, especially when the tide level is 80 cm. It is recommended to check the weather and tide level in advance using a tide table. Also, the rocks near Heart Rock are slippery, so please be careful when viewing and photographing.
| | |
| --- | --- |
| Address | 鹿児島県大島郡龍郷町赤尾木1346-1 |
| TEL | 0997-69-4512(Planning and Tourism Division, Ryugo Town Hall) |
| Access | 15 minutes by car from Amami Airport |
| Parking | Availavle |
Materiya Falls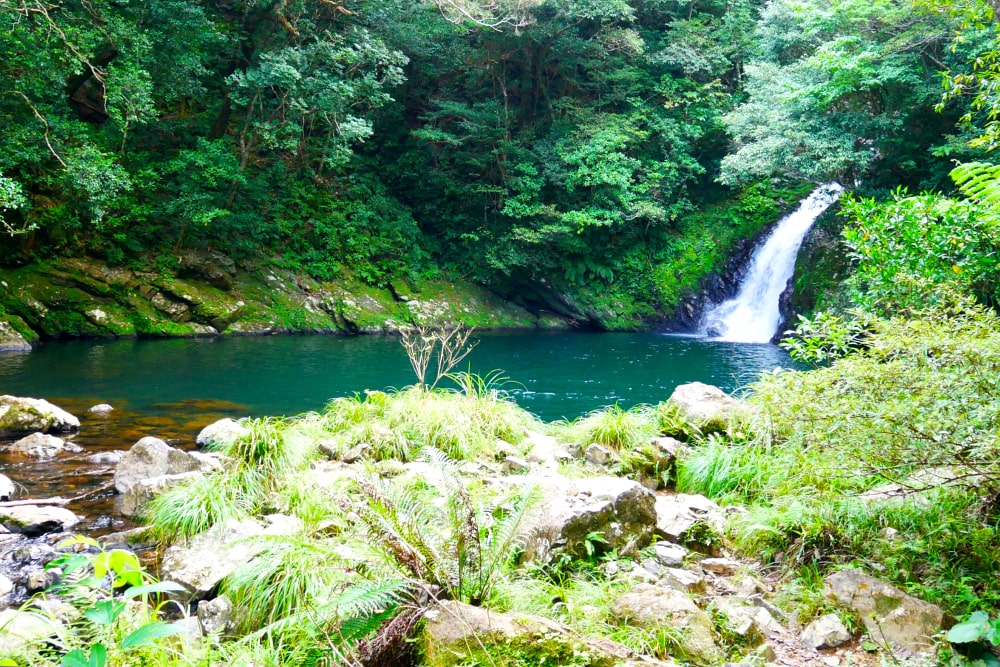 The mysterious Materiya Falls, located deep in the mountains of Yamato Village, has long been a popular place for people to relax. The name of the waterfall comes from the phrase "Ma Tida Nu Komori" (= Truly beautiful waterfall basin of the sun). As the name suggests, the sight of the open sky amidst the thick vegetation illuminating the waterfall basin is beautiful and mysterious. The waterfalls are a source of power, and the fresh air heals the body and mind.
| | |
| --- | --- |
| 場所 | 鹿児島県大島郡大和村名音大金久 |
| TEL | 0997-57-2111(Yamato Village Planning Division) |
| Access | 1 hour and 40 minutes by car from Amami Airport/ 1 hour by car from Naze Port |
| Parking | Available |
おすすめ宿:海を一望できる極上空間で、奄美大島の魅力に包まれるリラックス宿「奄美星宿」
2021年11月にオープンしたばかりの1棟貸しの奄美大島を堪能するにピッタリのデザイナーズ別荘。
徒歩30秒の奄美ブルーの海と夜景には満天の星に言葉では表せれない感動を体験を与えてくれます。1棟貸しだからできる贅沢なプライベート空間で奄美の美しさをで心ゆくまで感じてみてはいかがでしょうか?
Banyan Tree in Nishibaru
The huge banyan trees in Nishihara are overwhelmingly huge. The roots and branches are intricately intertwined, covering the road and creating a tunnel. In the Amami Islands, there is a legend of a monster called "Kenmun" who lives in the banyan trees. The banyan tree in Nishihara, which gives off a mysterious atmosphere, may be inhabited by this kenmun.
The banyan tree is also called the "tree of happiness" and is said to attract various kinds of luck such as money, love, and health. Enjoy it quietly as it is adjacent to a private house!
| | |
| --- | --- |
| Address | 鹿児島県大島郡龍郷町芦徳 |
| TEL | 0997-69-4512(Planning and Tourism Division, Ryugo Town Hall) |
| Access | 45 minutes by car from Amami Airport |
| Parking | Available |
Amandi
Amandi" is located halfway up the mountain where the Air Self-Defense Force Amami Oshima Sub-base is located. It is said to be the place where the goddess "Amamiko" and the male deity "Shinireku", who are said to have created Amami in prehistoric times, landed here. A stone monument and a gravestone with the biography of the goddess have been erected at this solemn site.
Amandi is a majestic place, but it is also famous for its beautiful panoramic views. The cherry blossom trees that bloom along the slope in February are also a must-see.
| | |
| --- | --- |
| Address | 鹿児島県奄美市笠利町平 |
| TEL | 0997-63-1111(Industry Promotion Division, Kasari General Branch Office, Amami City) |
| Access | 15 minutes by car from Amami City Kasari General Branch Office |
| Parking | Available |
Yuwandake
The highest mountain in Amami, 694.4m above sea level, is Ywan-dake. Legend has it that Amayagu and Shihinrekyu alighted here, and a shrine has been built at the summit. The entire summit area is designated as a special protection area of a national park, as it is home to many precious plants and animals. It is home to natural monuments and endemic species such as the Amami rabbit, Lidth's jay, and spiny rat.
There are two trailheads, and it takes about 50 minutes to reach the top by the Ukenmura side route and about 30 minutes by the Yamato Village side route. From the trailhead in Uken Village, the trail is a traditional mountain path, so if you are looking for a lighter trail, the Yamato Village route, which is well maintained and shorter, is recommended.
| | |
| --- | --- |
| Address | 鹿児島県大島郡宇検村湯湾 |
| TEL | 0997-67-2211(Uken Village Office) |
| Access | 15 minutes by car from Uken Village Hall |
| Parking | Available |
Honohoshi shore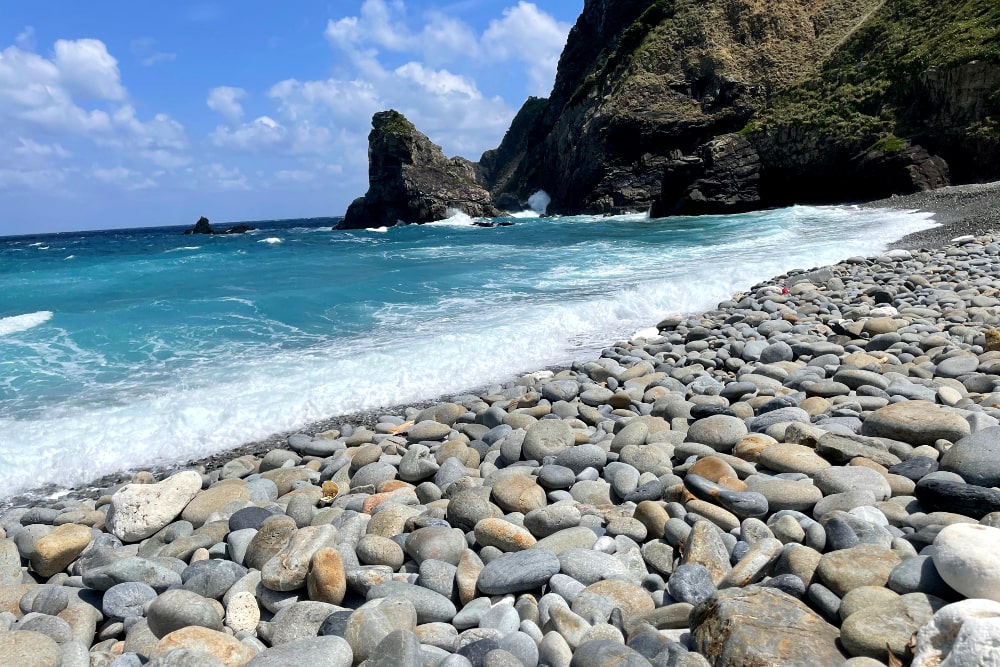 Honohoshi shore is made of round stones carved by rough waves. There is an old saying that each of these stones has a soul, and there is even a rumor that taking one home will bring misfortune. The atmosphere of Honohoshi shore seems to be different from other beaches because the round stones make a sound as they are scraped by the waves. There is also a cave on the left side of the beach, so if the tide is low, it might be a good idea to enter.
| | |
| --- | --- |
| Address | 鹿児島県大島郡瀬戸内町蘇刈 |
| TEL | 0997-72-1199(Amami Setouchi Tourist Association) |
| Access | 2 hours by car from Amami Airport/1 hour and 10 minutes by car from Naze Port |
| Parking | Available |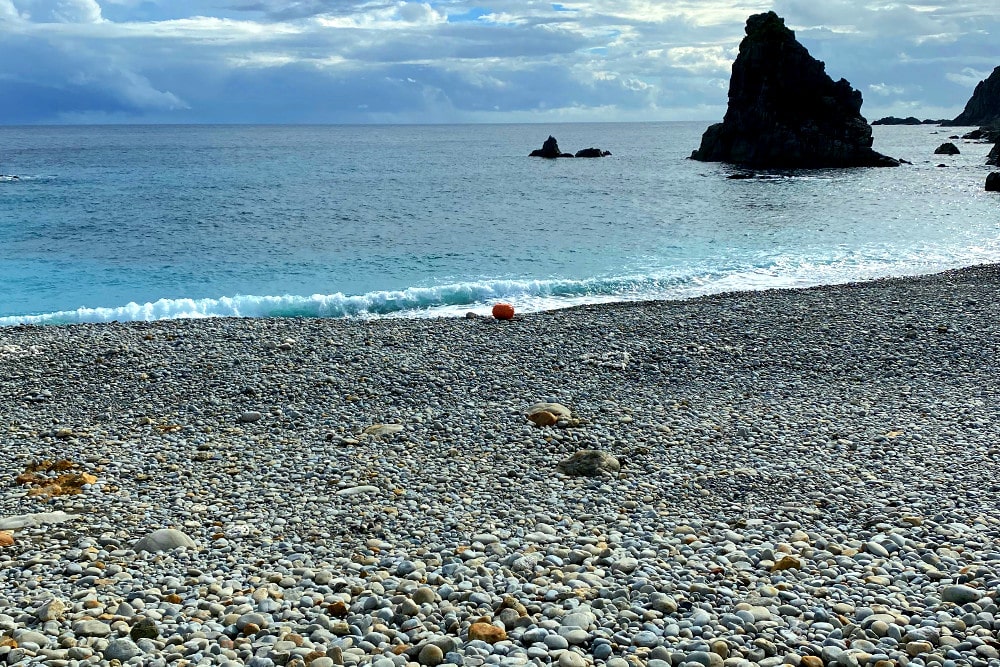 Summary
At the numerous power spots on Amami Oshima Island, you can enjoy various things, such as praying for good luck, enjoying the clean air, and enjoying the magnificent scenery. In addition, nature and human life go hand in hand on Amami Oshima, and there are many old legends about nature. I think one of the ways to enjoy the island is to learn about such legends and have a mystical experience. If you go on a trip to Amami Oshima, be sure to visit one of its power spots!
おすすめ宿:海を一望できる極上空間で、奄美大島の魅力に包まれるリラックス宿「奄美星宿」
2021年11月にオープンしたばかりの1棟貸しの奄美大島を堪能するにピッタリのデザイナーズ別荘。
徒歩30秒の奄美ブルーの海と夜景には満天の星に言葉では表せれない感動を体験を与えてくれます。1棟貸しだからできる贅沢なプライベート空間で奄美の美しさをで心ゆくまで感じてみてはいかがでしょうか?