One of the highlights of Amami Oshima is the emerald green sea! You can enjoy snorkeling, diving and beaches where you can swim with sea turtles. Surrounded by the Pacific Ocean, the East China Sea and the Oshima Strait, Amami Oshima is the perfect place to enjoy beautiful sunsets and unspoiled nature.
In the first place, is it possible to swim in Amami Oshima all year round? What is the best season?
Amami Oshima has an average annual temperature of over 20 degrees Celsius, making snorkeling and diving possible all year round! However, winters are cold and it can be chilly even when wearing a wetsuit. However, winter is cold and it can be chilly even in a wetsuit. If you want to enjoy swimming and marine activities in a bathing suit, early summer to early autumn is recommended. The rainy season in Amami Oshima is from May to June. Considering the typhoon-prone month of September, the best time to visit is from the end of the rainy season in late June to mid-July when there are fewer crowds. This period also coincides with the spawning season of sea turtles, which increases the chance of encountering sea turtles!
Amami Oshima's recommended beach No.5: "Yadori-hama" to meet sea turtles!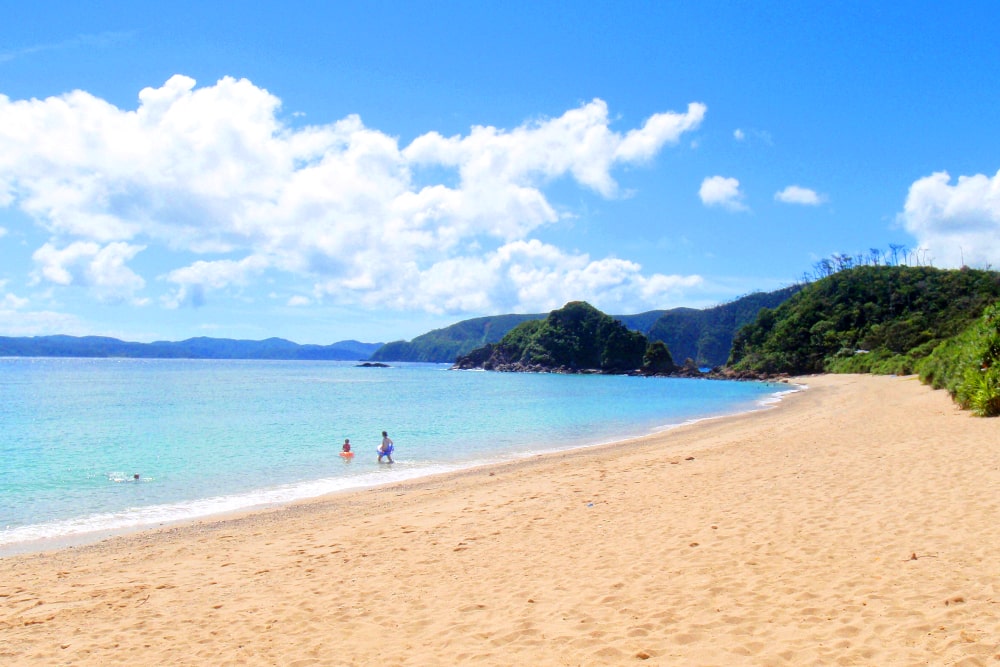 This beach is located in the southern part of Amami Oshima Island and overlooks Kakeroma Island on the opposite shore. The white sandy beach is beautifully arced and the clear emerald green sea goes on forever. The water is shallow even when you are quite far away, making it popular with families with small children. On windy days, it becomes a surfing spot, but if there is no wind, it's a calm sea with almost no waves. If you are lucky, you may be able to swim right next to the sea turtles. There is a campground attached to the beach, so it has toilets, showers, and a parking lot for free, and there are cafes and resort hotels nearby for your convenience.
mistletoe (esp. European mistletoe, Viscum album)
Address:Sogari, Setouchi Town, Oshima County, Kagoshima Prefecture*Click to go to Google Map
Amami Oshima's recommended beach No.4 : Ohama Seaside Park has the best sunsets!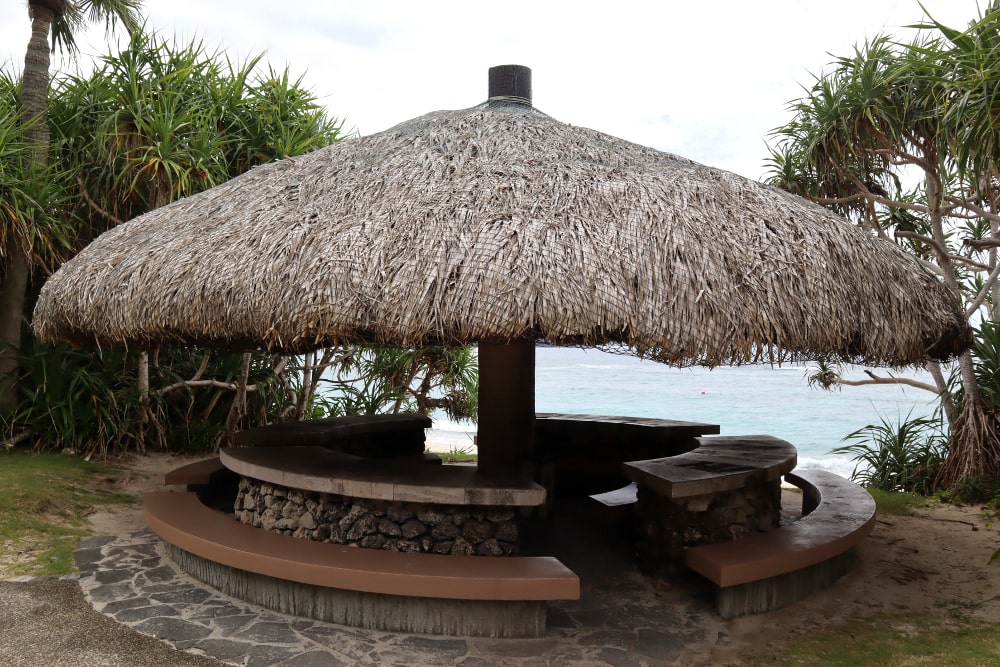 Conveniently located only 20 minutes by car from Naze, the central town of Amami Oshima, the beach is a place of relaxation not only for tourists but also for local people. A watchman is stationed at the shallow and calm beach during the season, and the swimming area is separated by ropes, so you can swim safely. During the summer, a variety of events are held, so there are plenty of ways to enjoy the beach besides swimming! The number of fishes is not so many, but if you swim to the offshore reef edge, you can see various kinds of fishes. Near the beach is the Amami Marine Exhibition Hall, where you can see the fishes and sea turtles that live in the Amami Sea. The beach is also equipped with showers, toilets and coin lockers. Ohama Beach is also famous as a sunset spot where you can see the beautiful sunset over the East China Sea! After swimming, you can relax and be healed by the sunset view of Amami Oshima.
Ohama Seaside Park (Ohama Kaihin Koen)
Address:701-1 Ohama, Oaza-Koyado, Naze, Amami-shi, Kagoshima*Click to go to Google Map
Amami Oshima's recommended beach No.3: The Blue Angel of Domori Beach will heal you!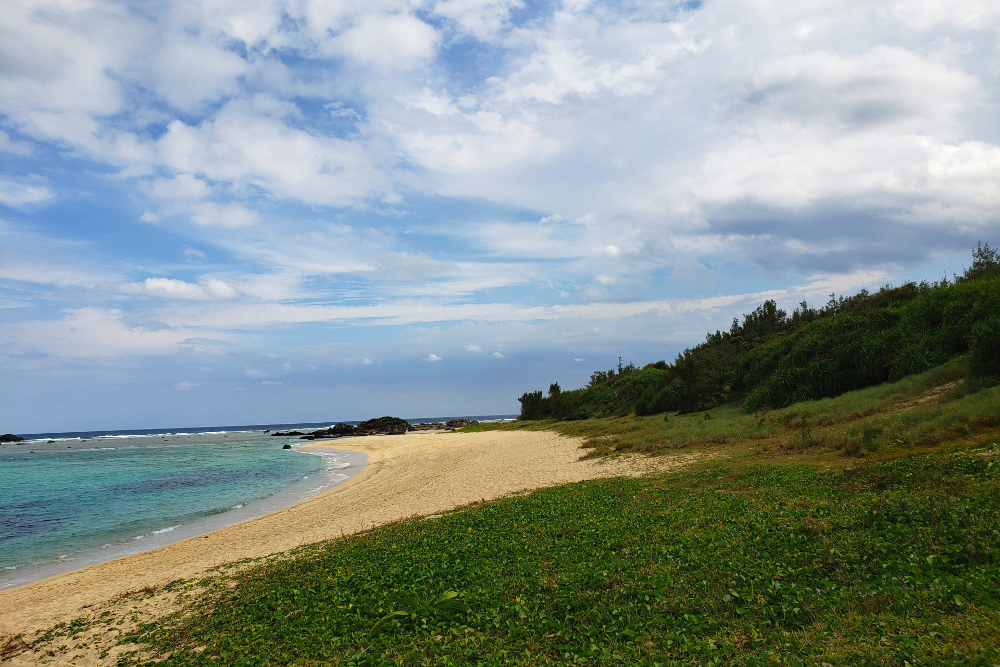 It is located about 5 minutes north of Amami Airport and its beautiful clear emerald green color is one of the best in Amami Oshima! This photogenic beach is called "Blue Angel" by the locals. The pure white sandy beach stretches like an arc and the shallow and calm sea surrounded by reefs is also known as a snorkeling spot. When the tide is low, tide pools are formed, and you can see a variety of creatures. Toilets and a parking lot are available. There is no shower room, but you can use the water hose.
おすすめ宿:海を一望できる極上空間で、奄美大島の魅力に包まれるリラックス宿「奄美星宿」
2021年11月にオープンしたばかりの1棟貸しの奄美大島を堪能するにピッタリのデザイナーズ別荘。
徒歩30秒の奄美ブルーの海と夜景には満天の星に言葉では表せれない感動を体験を与えてくれます。1棟貸しだからできる贅沢なプライベート空間で奄美の美しさをで心ゆくまで感じてみてはいかがでしょうか?
Tomori Coast
Address:Oaza Ujuku, Kasari-cho, Amami-shi, Kagoshima*Click to go to Google Map
Amami Oshima's recommended beach No.2: Kurasaki Beach has Amami blue sea!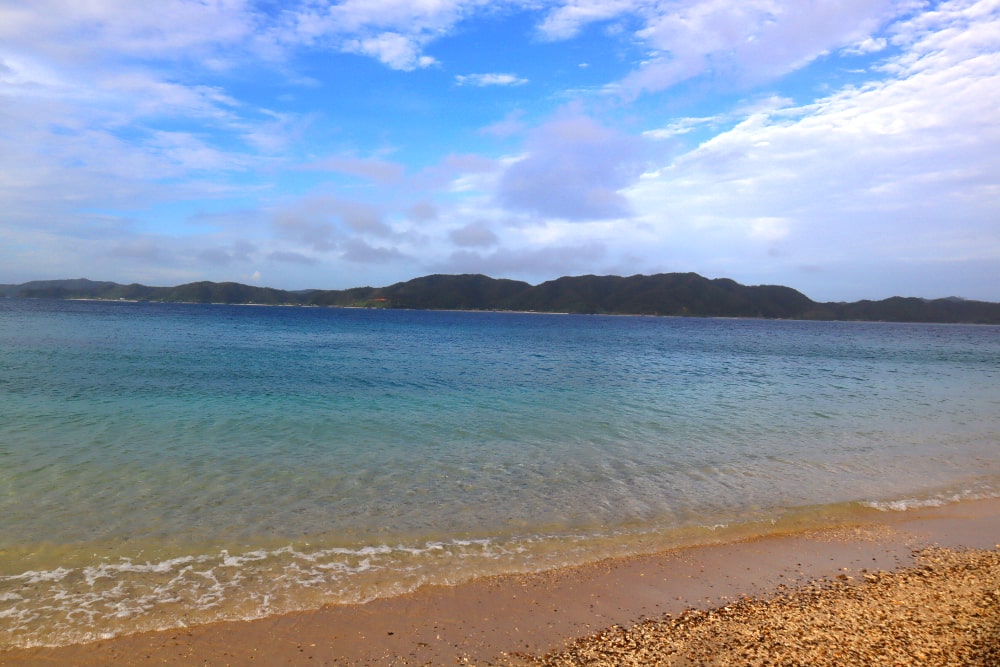 Facing Akaoki Bay in the northeastern part of Amami Oshima Island, it is a spectacular beach popular for snorkeling and diving. This is the place where a meteorite fell in ancient times and is also known as "Amami Crater". It is a beautiful round terrain with a diameter of 3.2 km and a circumference of 10 km. Because of the shallow and inland sea, the waves are calm! The eye-catching Amami blue sea is so clear that you can see where the corals are from the top. However, although there is a parking lot, there are no showers or changing rooms. You can rent a shower (for a fee) at the nearby hotel "Native Sea Amami". I recommend this place not only for swimming, but also if you want to be healed by the beautiful ocean!
Kurasaki Kaigan (Kurasaki Coast)
Address:Ashitoku, Ryugo-cho, Oshima-gun, Kagoshima*Click to go to Google Map
Amami OshimaAmami Oshima's recommended beach No.1: Sakihara Beach is a great spot with a spectacular view!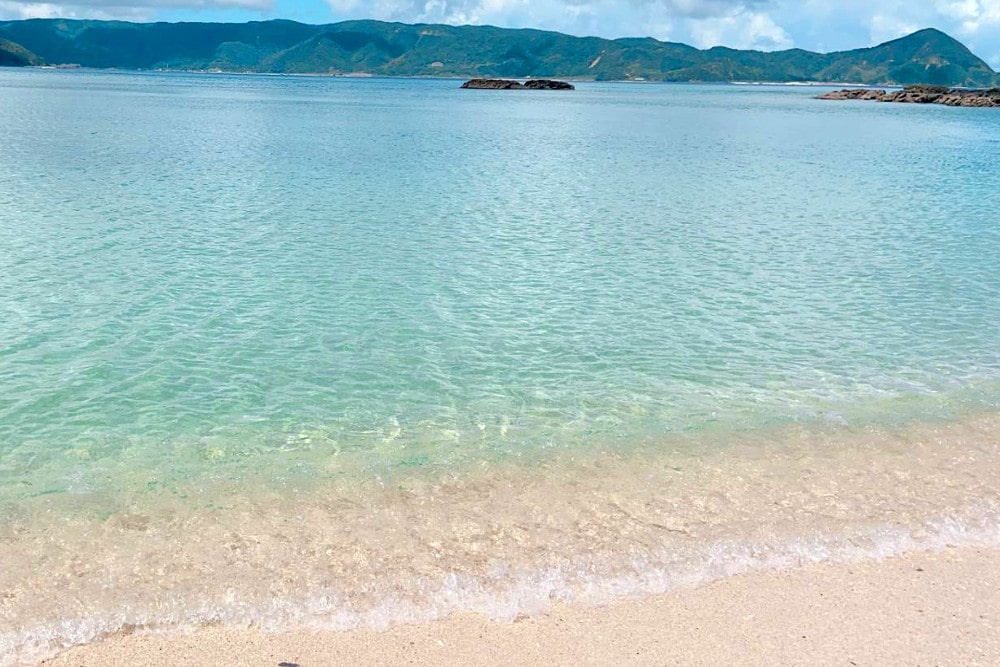 Sakihara Beach, located at the edge of the village, is a beach with a spectacular view known only to those in the know! The road to get there is partly narrow and there are not many tourist facilities around, so it is a hole-in-the-wall beach that few people visit. The emerald green sea that you can see on the way to the beach is amazing, and the powdery white sand is also great! You can spend a relaxing time as if you were at a private beach with beautiful old-fashioned scenery of adang trees. Free toilets, showers, and parking are available. Please enjoy the beautiful and untouched nature.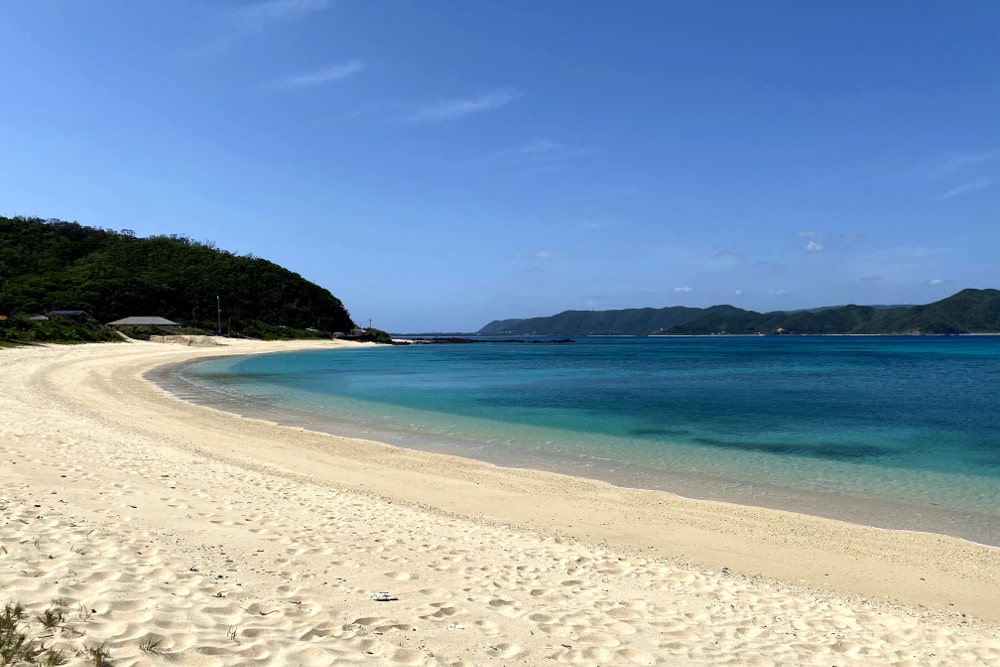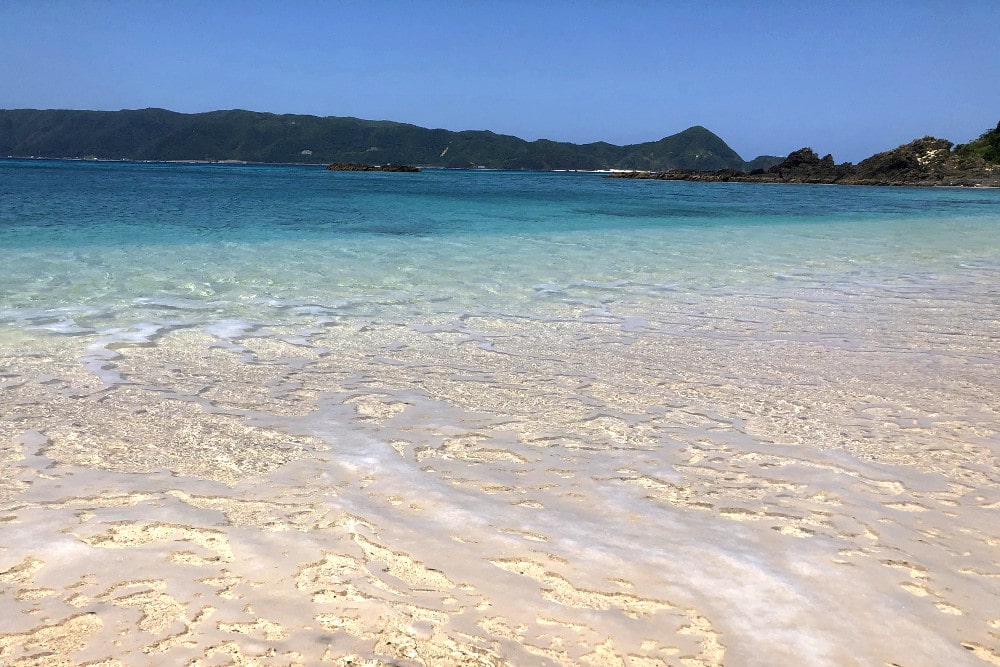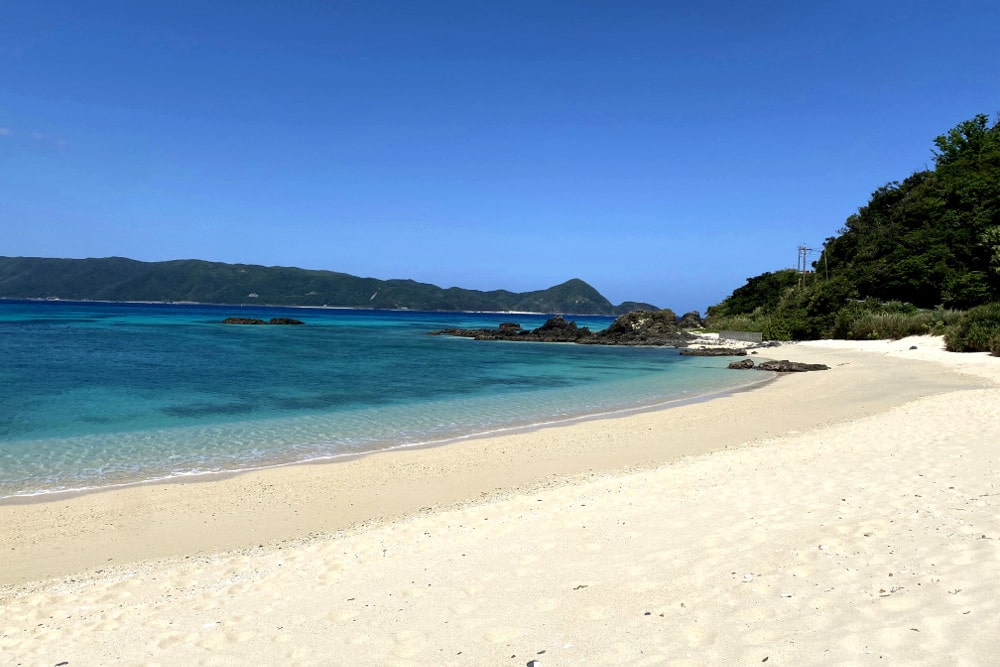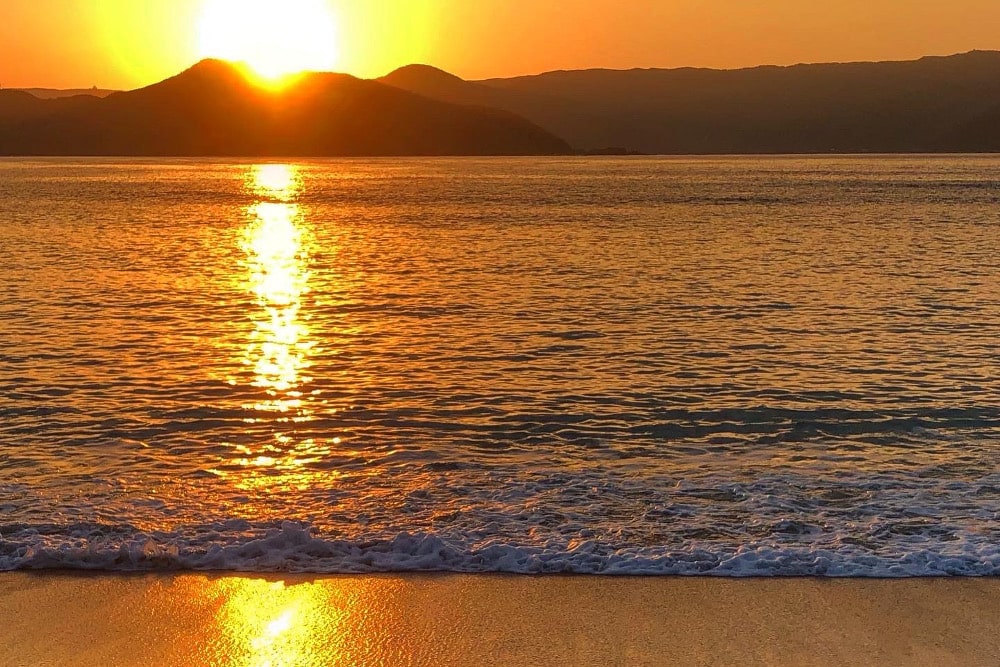 Sakihara Beach
Address:3622 Oaza-Kise, Kasari-cho, Amami-shi, Kagoshima*Click to go to Google Map
Enjoy the sea of Amami Oshima by snorkeling and diving!
If you want to meet sea turtles in Amami Oshima or if you are a snorkel beginner, it is recommended to apply for a tour that knows the sea well. You will be able to enjoy it safely and comfortably. There are also many beautiful beaches on Kakaroma Island, which is about 20 minutes by ferry from Koniya Port at the southernmost tip of Amami Oshima. Stay leisurely and be sure to stretch your legs!
おすすめ宿:海を一望できる極上空間で、奄美大島の魅力に包まれるリラックス宿「奄美星宿」
2021年11月にオープンしたばかりの1棟貸しの奄美大島を堪能するにピッタリのデザイナーズ別荘。
徒歩30秒の奄美ブルーの海と夜景には満天の星に言葉では表せれない感動を体験を与えてくれます。1棟貸しだからできる贅沢なプライベート空間で奄美の美しさをで心ゆくまで感じてみてはいかがでしょうか?